Home > Frequently Asked Questions
Frequently Asked Questions
In the following list you will find the frequently asked questions regarding our service and other important matters related to it. You will find in the upper part some categories with different themes, to visualize the answer to the questions press on them and the information you need will be displayed. If your question is not in the list, you can write us through the Questions, Complaints and Claims form.
Prosthesis Application
How are Mahavir Kmina prostheses?
---
Mahavir Kmina prostheses are manufactured in a personalized way by our team of prosthetists. Although these are not the latest technology, the technique and materials used to produce them are among the lightest and most resistant of their kind. Our Technology
---
How long does it take to produce a prosthesis?
---
In terms of agility, Mahavir Kmina has no comparison. We only took 3 to 5 days to produce a prosthesis!
---
How much do our prostheses cost?
---
Our prostheses are completely free! If you are fit for a prosthesis, Mahavir Kmina will cover the costs of its manufacture, as well as the additional services that are included in the process (medical review and psychological session).
---
Where are you located?
---
Very close to Medellín, Antioquia, in a small town called La Estrella. Specifically, in Cra 54 No. 79 AA Sur - 40. Bodegas La Troja, 116. Call us at + (574) 379 2729 and ask about the different alternatives to get here.
---
How long should I wait to start the process?
---
Day by day, many people call us requesting our service. Therefore, we have a list of people waiting to be called for their prostheses. On average, the waiting time ranges between two and three months, so be patient.
---
What should I do to start the process?
---
To request your prosthesis you have two options: 1. Call us at + (574) 379 2729 and request the appointment appointment, or 2. Fill out the virtual form that you will find on our page DO YOU NEED A PROSTHESIS? There you will also find more detailed information about the service we provide. IMPORTANT: do not come without an assigned appointment because in that case we will not be able to assist you. When it's time to come for your prosthesis, we'll call you.
---
Do you only donate leg prostheses?
---
The donation of lower limbs is our strength, but we also donate orthoses for lower limbs, prostheses for upper limbs, wheelchairs and stand up wheelchairs. These options, however, are donated depending on the case. Call us at + (574) 379 2729 and tell us your case.
---
What are the requirements to access a prosthesis?
---
Mahavir Kmina has no restrictions with respect to age, sex, provenance, ideology, purchasing power or cause of amputation of its beneficiaries. Anyone who is physically and mentally prepared to adapt to the prosthesis is a candidate to receive it.
---
Can I access a new prosthesis if I have already benefited before?
---
Of course. If your prosthesis is damaged, call us at + (574) 379 2729 and request a review. If we can fix it, we will. Otherwise, we will donate you a new one.
---
What will I be able to do with my prosthesis?
---
It depends on you. Mahavir Kmina prostheses are not designed for high performance athletes, but they allow a great amount of physical activities. Our beneficiaries are able to jump, run, dance, ride a bike, drive, swim, climb and many other things. If you do not believe us, we invite you to visit our SUCCESS STORIES page and check it yourself.
---
Should I be Colombian to be benefited?
---
No. Mahavir Kmina provides its service for anyone who needs it, but we do not cover the expenses for transportation, lodging and food during your stay in the city.
---
---
Care recommendations for your prosthesis
What care should I have BEFORE requesting my prosthesis?
---
Before requesting our service, it is essential that you take into account the following recommendations: 1. Your stump should be healthy: that means it should not present any type of open wound, bleeding blisters, severe inflammations or infections. 2. Your stump should be bandaged: bandage your stump with elastic bandages to reduce swelling, it will fit better to your prosthesis in that way. In the question How to bandage my stump? You will find an instruction manual that explains how to do it. 3. Your other leg should be strong: your remaining leg should be strong to be able to move with the prosthesis. Do physical activities regularly and avoid the wheelchair at all costs.
---
How to bandage my stump?
---
To bandage your stump you must use elastic bandages, these you get in any pharmacy. The bandage is different according to the type of amputation you have (above or below the knee). Here we share an instructional video that explains how to do it in both cases: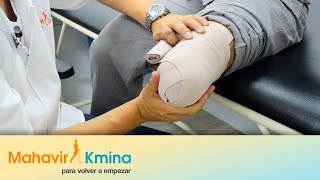 ---
How often should I change the bandage on my stump?
---
Your stump should remain permanently bandaged, you just have to remove it to clean the area. If the bandage comes loosens, you should remove it and bandage the stump again. We suggest using the tightest bandage during the day and releasing it a little at night, when you are going to sleep. The elastic bandage does not require changing constantly, just wash it once a week.
---
---
Donations
How can I make a donation?
---
Apoyar a la causa es sencillo. En este momento, contamos con tres medios para realizar donaciones: 1. Bancolombia checking account # 37932615165. Go to Bancolombia Website 2. Through PSE (Secure Online Payments). Make your donation 3. Mahavir Kmina Project at GlobalGiving, an international fundraising platform for non-profit organizations. Go to our project In case you need it, our NIT is: 900137524-1.
---
How much should I donate if I want to cover the costs of a prosthesis?
---
Our prostheses have a production cost of $ 2,500,000 COP, a donation of that value would cover the entire service for a person who requires a prosthesis to walk again.
---
Can I make the donation through the Bancolombia App?
---
Not for now. If you are going to make your donation trough our Bancolombia checking account, you must do it through a cashier, a bank or their official website.
---
What rewards do I get for my donation?
---
By contributing to the cause of Mahavir Kmina, you will receive the following considerations: 1. Donation certificate.
2. Detailed report of the people who were benefited with your contribution.
3. Thank you card.
4. Gift kit from the Mahavir Kmina Store. NOTE: to request the compensation, leave your information in the form on the page Make your donation and we will contact you. If the donation is anonymous, this will not be possible.
---
---